Enterprise Product Descriptions
Multi-Location Management Hub
GoSite's Multi-Location Management Hub is the easiest way for a multi-location brand to manage their individual locations at scale. With every GoSite product now available for multi-location brands, the Location Management Hub brings the power of each solution into a single portal.
Single portal to manage 2 to 10,000+ business locations
Advanced location reporting across all products
Advanced product management for locations at scale
Location Manager Administrative login(s)
Individual Location User Login Management
Edit Location(s) Settings
Edit Location Information and Settings
Multi-User Access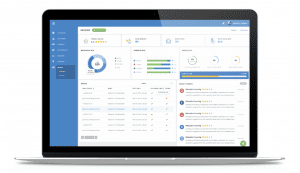 Placement
GoSite's Placement is the easiest web presence management solution for a local business. Placement allows a business to manage, control, and update all of their business attributes across the web.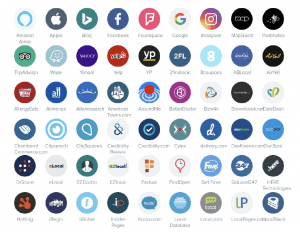 Direct API syncing with 75 publishers including Google, Yahoo, Bing, Foursquare and more.
Automatically place your business across our network over 75 different areas of the web including
search engines, mobile apps, and web directories.
Instant Updates – Primary Business Information updates across Placement Network primary
business information including:

Logo
Address
Categories
Phone Number
Website URL
Featured Message
Business Description
Business Hours
Business Photos
Payment Methods Accepted
Special Holiday Hours
Social Media Links

Business Information Locking – Lock Primary Business Information from being changed.
Live Profile Auditing – API detection across Placement Network of inaccurate business information
Duplicate Listing Detection – Detection system to identify duplicate profiles of your location online
Duplicate Listing Suppression – API suppression on location profiles that are duplicates
Category Management – Choose up to 5 categories for your location to index for
Omnichannel placement technology including search, social, mobile, voice, GPS, tablets and hundreds of other devices and platforms.
Business Photo Control – Instantly place and take control of the logo and photos of your business shown across the web. (Ask about our Professional Photo program)
Local SEO Enhancement – Consistent NAP information across all business profiles included in the Placement Network.
Voice Search – Automatically get optimized in rapidly growing voice searches.
Featured Promotional Message – Post and updated a featured message or promotion across your web presence, such as a weekly discount/deal or promotion, and update it instantly at anytime.
Dashboard View of entire placement network, with current status, NAP information, and link.

Google My Business Management
Directly control your business on Google with several of the above features.
Google Insights – Track each individual location's Google Insights, including:

Total searches appeared in
Total Google My Business views
Total Views on Google Maps
Total Phone Calls by day of week
Total Phone Calls by time of day
Metrics viewable by Day, Week, Month, and Quarter

Google Photo and Logo management
Primary Business Information Management
Google Review Management (Requires Reviews Product)
Reviews
GoSite's Review software is a complete reputation management solution, letting a business manage and monitor their online reviews, gain insight using automated customer feedback, and drive more positive online reviews across their web presence.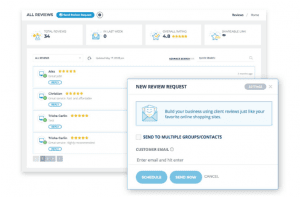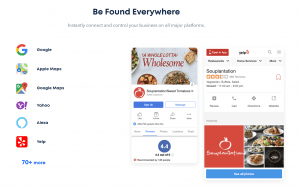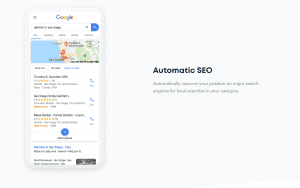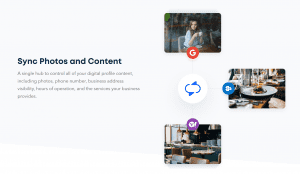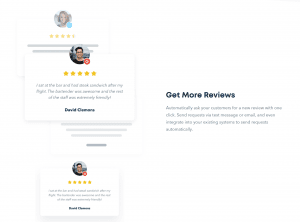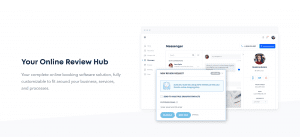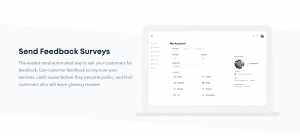 Reputation Management Hub – Complete management portal for each location's online reviews and reputation. Manage all of your businesses online reviews in one place. Populate all of your online reviews into a single portal.
Review API – Direct Reputation and Review API integrations into Google, and Facebook, and Placement Network (75 Sites).
Review Notifications – Configure to receive either SMS or email notifications when location receives a new online review on review sites across the Placement Network.
Review Responding – Respond to online reviews on sites such as Google and Facebook to show you are a business that cares.
Customer Simple Feedback – Simple feedback survey asking simple question of whether or not they are satisfied with your location.
Feedback Automatic Routing – Customers who select Positive Experience feedback are routed to leave a configurable rotation of review sites. Customers who select Negative Experience are routed to a private feedback form which is logged in the location dashboard and prompts a notification.
Private Feedback – Feedback collected privately and viewable in location dashboard
Review Weighting – Configurable weights for each selected review site will determine how often you direct review generation requests to each site.
Website Widget Creation and Hosting – Iframe Widget to display location reviews on a web page. Create multiple widgets to display on websites(s).
Review Analytics – Keep tabs on how many reviews you have on which sites, and which of your customers have left your reviews.