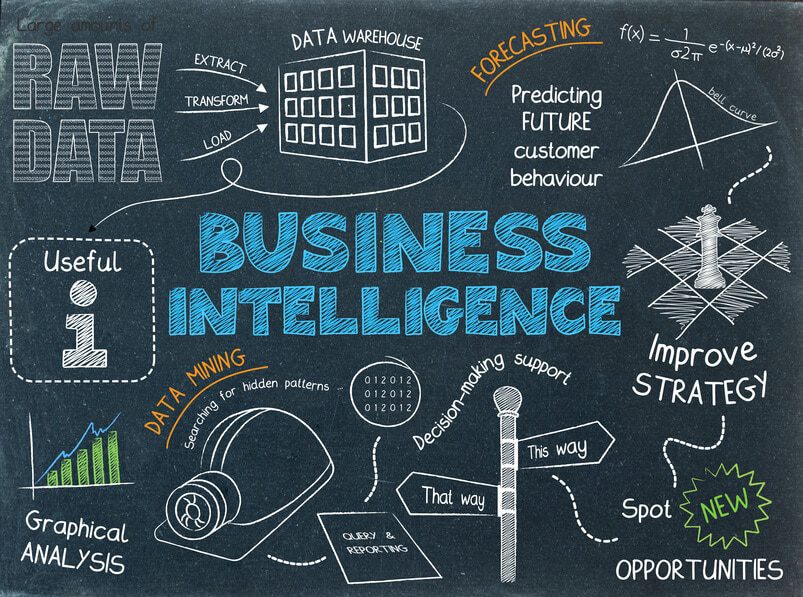 The development in the world of internet has triggered the availability of massive and a variety of data on it. Business intelligence refers to finding appropriate and relevant data out of this big data for your organization. It refers to the use of technologies, applications and methods for the gathering, analysis, reporting, integration and presentation of business relevant information. The reason business intelligence is used is to support your business and ensure the decision making is done right.
In the previous years, because of the scarcity of information, finding data for business development was a difficult task, today it's the abundance of information which is making it hard to find relevant data for making business decisions. Business intelligence technologies enable the finding, identifying, developing and handling of all such structured or unstructured data. All these actions make interpretation of big data easier, which leads to the identification of opportunities and implementation of a good strategy for the sustenance in the market.
Because of the aptness of the business intelligence technologies, there are many new trends that are emerging in the sector. Following are some of the many trends Business Intelligence Technologies are undergoing in the current phase.
Trends in Business Intelligence Technology.
Data Warehousing.
A data warehouse (DW or DWH) is a system that works as a repository and stores data. This can also be used for data analysis with reporting software. Companies when expanding their businesses, use multiple sources to keep a record of the transactional data. So, if one aims to find something that was done 5 years ago, he can find it in the data warehouse where the old information rests. A data warehouse can be used to bring together information from different sources and integrate, all of it together produces a central repository. The main idea behind a data warehouse is storage of data along with a copy of information taken from different sources so one can easily search for required data in one place. It can help your organization grow bigger if your interest is to collect information I.e. historical data from different sources and integrate into a single system.
Dashboards.
A dashboard is easy to read and often a single page user-friendly and very informative interface that exhibits data in a visual form which is the charts and graphs. These dashboards provide real time updates, which means that the dashboard is directly linked to a webpage which is further linked to a database where the needed data gets updated and refreshed. One can find key trends, summaries, comparisons and exceptions of the current and historical data on the dashboards. This elevates a business owner's status as an informed man and allow him to use all this information positively for the growth of his company and making better business decisions.
For instance, a dashboard can display company's different product lines that have been sold, the performance record of sales people and the number of sales they have made in different parts of the world. The prime advantage of having a dashboard is the ease it provides in searching for the data anytime, anywhere. It enables companies to observe trends in the world and notice key factors that influence sales performances. Moreover, it also lets companies know the demand for a certain product in a specific region with the facility to gain complete visibility of visual data and take snapshots of them for a better record.
Pattern Finding.
Pattern finding is commonly known as data discovery. It's a tool that enables finding a more comprehensive pattern or a structure out of many fields of a large database. The data discovery software possesses the capability to analyze these fields and draw out from large data the exact information a business owner or a company requires. This information is in the form of patterns or outliers, associations or correlations that remain unfound previously and become detectable through this software. Data discovery tool can be used in a vast manner and be also applied to the processing of information, such as large-scale data and decisions of several applications in computer support system.
Data discovery tool has a very positive and healthy role to play for the sale of a company. It can very well help companies observe customer's behavior and notice the item of sale they are picking up most. For example, it can be easily seen that during the working days, employees prefer to buy lunch from respective cafes and choose ready to take savory yet filling meals on the go over picking sweeter and snack items. They also choose cold drinks with their afternoon meals than going for hot beverages like tea or coffee.
Ad hoc Reporting.
Ad hoc reporting can be explained as something that is done in a short term but on urgent basis. This can have specific targets and gets terminated at the end of each assignment it was meant for. The prime purpose that ad-hoc reporting serves is delivering results on need basis than on regular terms. This is more commonly used to address timely questions and ends after the specific business decisions in a certain frame of time are made. Like for example, ad hoc reporting can prove to be profitable in a time when a necessary decision is to be made right away, in such time ad hoc reporting can be used focusing on one question only, without going on a long term plan.
Cloud data.
In today's age, when hordes of people are flocking into the world of technology, the usage of computer and internet is increasing too. With millions making their way into here, the reliance of world on the internet is multiplying too. More and more data is now available on the internet with people and companies taking their businesses, networking and storage of information to it. Therefore, the quantity of information is exceeding the capacity of storage present in a system. In such a situation, it's the cloud computing that appears on the scene to rescue those looking for space solutions. Almost all the business owners and individuals are using the services of a cloud for data storage. Cloud data can offer a variety of options to its users, opting for cloud means choosing access to IT resources, customer relationship management, market intelligence and automation, enterprise resource planning and data storage even in remote ways. One can use this source without remaining tethered to physical bodies or area specific servers. Which means that any information can be accessed from anywhere with the required speed, agility and security. There are options like private, public or hybrid cloud available for the users, depending on the data and type of information they desire to maintain. Considering the reliability and options cloud is providing to its users, many are now choosing this option over taking more expensive choices.
Some other BI trends and methods include
Analytical database
Data integration for business users.
Agile BI development.
Big data analytics.
Mobile BI.
Collaboration.
Real-time analytics.
Data Storytelling.
Data mining.
Integrated platforms for BI and PM.
Final word.
Business intelligence is a decision support system based on data. It refers to applications, technologies and practices for the collection and analysis purpose of business information. The above listed trends can tell any reader how the business intelligence sector is going to grow big in the coming future.